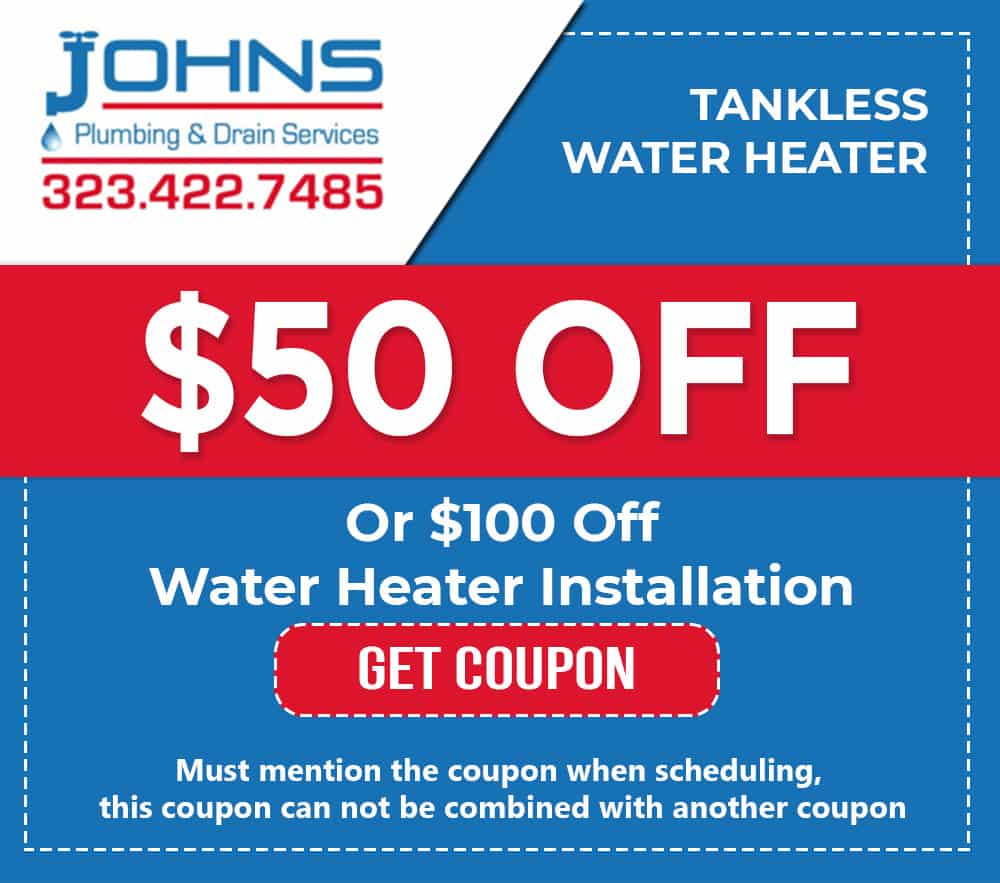 PROFESSIONAL TANKLESS WATER HEATER REPAIR AND INSTALLATION
John's Plumbing Company offers professional services for both traditional and tankless water heaters in Los Angeles, CA and the surrounding areas. 
Whether your water heater is leaking, needs maintenance, or you are ready to install a new energy efficient system, we have a solution to fit your needs. 
Your water heater works hard for you, and we are committed to helping extend the life of your tankless system or provide the highest quality tankless brands if you are considering an upgrade. We proudly install Navien and Rinnai tankless water heaters for their quality, customer service, and long lasting units. 
Tankless Water Heaters – Los Angeles, CA
Tankless water heaters are becoming more popular for their many benefits, including endless hot water and high efficiency.
If you are thinking of installing a new water heater, we recommend tankless systems. They can be installed on the interior or exterior of the home, last much longer than traditional tank systems and are about the size of a small suitcase providing incredible space saving in your home. 
Tankless Water Heater Benefits
Energy Efficiency –

Tankless water heaters only heat water as it is being used. While it does not mean instant hot water, it does equate to lower utility costs with a high efficiency system. Customers can also install a recirculation system or instahot device to get instant hot water. Tankless systems can help save utility costs as they do not constantly heat unused water.
No Flood Risks or Sediment

– Sediment from hard water settles in traditional tank water heaters slowly eating away at the tank. It can also enter into the home's water supply causing damage to the water supply lines. Since tankless water heaters do not store water, it is always as fresh as when it enters your home supply. And with no water in the system, there is no risk of flooding and water damage if the system has a failure.
Endless Hot Water –  If you have a large household or desire endless hot water, tankless water heaters are the system for you. Your new tankless water heater will provide you with hot water for as long as you want it, making them ideal for large families, commercial businesses, and restaurants — families and business owners can ensure they always have hot water when they need it most.
Extended Warranties

– Tankless water heater warranties begin at minimum of 10 years. They are also easily repaired, as different components can be replaced without needing to replace the entire unit like most traditional water heaters. 

 

Annual Water Heater Flush 

To keep both traditional and tankless water heaters working at their optimal level, we recommend scheduling an annual water heater flush. 

It will keep sediment from settling in tank water heaters and stop hard water from corroding tankless water heater components and extend the life of your systems.

Our team specializes in tankless water heaters. We have more than 10 years of experience servicing, repairing, and installing the highest quality systems to suit your water heating needs. 

For professional and expert tankless water heaters in Los Angeles, CA and the surrounding areas, call John's Plumbing Company today (323) 422-7485.
Our water heater began spewing water this morning.  John was the first plumber in the area to answer my call, and was able to get to my house within 10 minutes of the call.  He fixed the problem promptly and for what seemed to be a reasonable price.  He was friendly and informative.  I will definitely call John again and will recommend him to neighbors.  Thanks, John!
-Caitlin R
John has done numerous plumbing projects around my house and has always done excellent work.  He's quick to respond to my inquiry's and even replaced my water heater on a Sunday.  Most recently, I had him install a water purification system and new faucet.  His prices are reasonable and he will continue to be my go-to plumber.
-Rachel R.
Very helpful guy, thank you for the quick service and low service fee 🙂 Job well done.
-Sandra F.
These guys are the best! If you're looking for a legit plumber, call John's Plumbing Company in Atwater Village. Fairest price, honest and very knowledgeable!
-Ashley C.
Project: Install a Tankless Water Heater System
Comments: john and company were very efficient. they took their time and got the job done right. they replaced my standard water heater with a rinnai tankless water heater. while they were here, I also had them install a earthquake shut-off valve. great job at a reasonable price. I am keeping john as our regular plumber for the future.
Sergio S. in La Crescenta, CA
Project: Install, Repair or Replace Plumbing or Fixtures
Comments: My tenant is happy so I am happy. John was very patient with me and explained everything before he did the job. Very nice over the phone and I will use him again for future plumbing needs.
 Marilyn L. in Pasadena, CA
Project: Install, Repair or Replace Plumbing or Fixtures
Comments: I am very pleased. I've had John do the top priority job of repairing a leaking drainpipe and his work looks to be top notch. I'm definitely thinking of using him for the larger job of repiping the whole house (replacing the failing M-type copper with L-type). And again, John's bid is within my budget considerations. Highly recommended.
Homeowner in Glendale, CA
Project: Install or Replace a Water Heater
Comments: John was great. He gave me options and worked with me to find a solution that worked within my budget. Very professional. I will definitely use him again for any plumbing issues.
Laura W. in South Pasadena, CA
Project: Install or Replace a Water Heater
Comments: John was very responsive to my initial call, showed upon time and did excellent work at a fair price to replace my water heater. I highly recommend him and I plan to use him for future plumbing needs
Gary P. in Sherman Oaks, CA
Camera Locate Breakage for a Plumbing System
Comments: We had them run a snake from our sewer line out to the street, as we have lots of trees with roots that sometimes get into the line. They came as scheduled, did a great job and the price was as quoted.
Colleen L. in Pasadena, CA
Monday, Open 24 hours
Tuesday, Open 24 hours
Wednesday, Open 24 hours
Thursday, Open 24 hours
Friday, Open 24 hours
Saturday, Open 24 hours
Sunday, Open 24 hours
John's Plumbing Company
3847 Brunswick Avenue, LA, Ca, 90039